Send packages to Denmark cheaply and quickly
Now it is both easier and cheaper to send parcels to Denmark. With Shiplink you always get a fixed price!
We find the best carrier for what you want to send to Denmark - packages, pallets or documents. We find the best shipping options. You can devote your time to things that are more important to you!
Send packages to Denmark at fixed price.
Easily book online - free business account.
Secure shipping and good support.
Examples of shipping prices to Denmark
Air freight to Denmark
fr.

264

kr
Parcel
to Denmark
fr.

135

kr
Parcel 10 kg to Denmark
fr.

152

kr
Parcel 20 kg to Denmark
fr.

181

kr
Parcel 30 kg to Denmark
fr.

208

kr
Parcel 5 kg to Denmark
fr.

139

kr






How to send parcels to Denmark
Calculate shipping cost
You quickly figure out a fixed price with our price calculator. Feel safe in finding the best transport company for you!
See where the package is
You or the recipient can at any time see how far the package has come. Track the shipment easily through our website.
Even easier with several packages
If you send packages to Denmark or other places often, you will appreciate Shiplink's company account. See all invoices and packages in one place - absolutely free!
Book cheap shipping to Denmark
Parcel to company
Fixed Price
Parcel with home delivery
Fixed Price
Pick-up
Delivery to Company
Traceability
Basic Insurance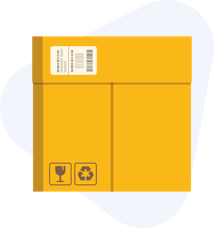 Now it is easier than ever to send parcels to Denmark. In addition, with Shiplink it becomes cheaper!
Shiplink allows you to lower the cost of your shipping to Denmark. This applies whether you just want to send a document, package or even one or more pallets. We find the best carrier at the lowest price. All you have to do is fill in a few details in our price calculator. Do you send parcels to Denmark frequently? Then it becomes even easier with our free booking system.
Easy to post packages to Denmark
It is easy to send packages to Denmark when using Shiplink. We compare the price of several carriers. That way you can always find the cheapest shipping to Denmark. Sending packages using Shiplink is also easier than it is otherwise. Shipping is fast. Sending you often makes it even easier with a free company account. We have a world-class customer service that helps if you have any questions. Therefore it is easy, cheap and safe to ship with Shiplink. How to send packages with Shiplink to Denmark:
Calculate a fixed price
Each package is unique. Therefore, you get a customized price depending on what you want to send. Should you ship a pallet, half pallet or a business package? Or is it just a document you want to send with a bid? Enter your and the recipient's zip code, as well as the weight and dimensions of the shipment. The price shows up on the screen together with options for express delivery. More difficult than then is not to book a shipping with Shiplink!
Notification is included for private individuals
When the recipient is a private person in Denmark, notification is included. The recipient will then be notified of the delivery date and time. If you send to a company you can order notification as an option. You can also choose the optional delivery message if you wish. The carrier will then call the recipient approximately 30 minutes before arrival.
Get a business account
Shiplink offers all companies a free account. Choosing that option makes it even easier to send packages. The company then receives all its shipments and invoices collected from Shiplink. Sign in to get a full view of what was sent and to whom. If you prefer to send parcels without an account, you will do well!
Satisfied customers
Shiplink's customers are very satisfied with the service they receive. We are convinced that it largely depends on how easy it is to use our services. Always getting a fixed price creates a security that our customers appreciate. In addition, our customer service is always very helpful. It contributes to the overall experience. You know that we always climate-compensate all our shipping to Denmark - and to the whole world!
How much does shipping to Denmark cost?
The price of shipping to Denmark depends on what you want to send, the dimensions and what the shipping weighs. Whether you choose financial freight or express delivery also affects the price.
How long does it take for parcels to arrive in Denmark?
The delivery time depends on the distance and whether you choose economy packages or express shipping. Usually, parcels to Denmark arrive in 1 to 3 days.
Is it possible to send to a private person in Denmark?
Yes! Companies can use Shiplink to send packages to both individuals and companies.
Which carrier should I choose?
You do not have to choose a transport company yourself. Shiplink finds the carrier that gives the best price.
Best way to send goods and other to Denmark
With Shiplink you send all types of goods and packages to Denmark with the least possible inconvenience. We find the best carrier so you can send packages cheaply. Quick and easy!
Haven't found answer here?
Visit our FAQ section to find more answers or contact our Customer Service!
Tel. 010-20 706 66
Customer Service is closed, we open again, Invalid date